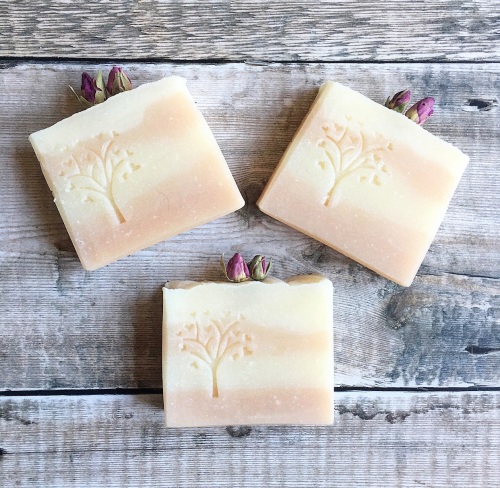 Rose geranium ~ Luxury vegan soap
Pink clay and rosebuds.
Natural, vegan and palm oil free
Luxury soap made the old fashioned way using a process which retains the natural glycerine in the soap, creating a bar which is nourishing and moisturising.
Made with Daisy Age's double butter soap formula with lashings of fairtrade organic shea butter, cocoa butter, olive oil, coconut oil and castor oil. Scented with rose geranium essential oil, coloured with french pink clay and topped with pretty rosebuds.
The pink clay gives the soap a lovely silky lather and is known for it's many benefits to the skin.
Stamped with a tree and packaged in a reusable muslin bag with a recycled card quote tag.
"Only LOVE can change the world"
INGREDIENTS: Sodium olivate (olive oil), sodium cocoate (coconut oil), sodium shea butterate (shea butter), sodium cocoa butterate (cocoa butter), sodium castorate (castor oil), aqua, glycerine, pelargonium rosa (rose geranium) essential oil, kaolin-ilite (pink clay), rosa damascena (rose) flower buds, *citronellol, *limonene, *linalool, *naturally occurring in essential oils.
Minimum cut weight: 100g e
Due to the handcrafted nature of the bars, sizes, shapes, colours and patterns may vary.
Daisy Age products are fully insured and certified to comply with EU and UK cosmetic legistlation.
Daisy Age is a member of The Guild of Craft, Soap and Toiletry Makers.