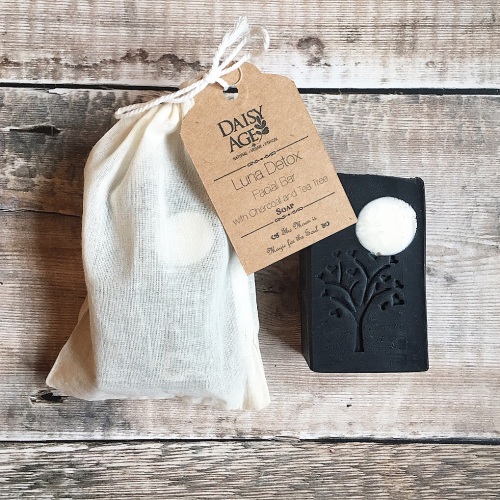 Luna detox - luxury vegan facial bar
Detoxifying facial bar with activated charcoal, aloe vera, tea tree and neem oil.
Natural, vegan and palm oil free.
Luxury soap made the old fashioned way using a process that retains the natural glycerine in the soap, creating a bar which is nourishing and moisturising.
This soap bar is made with the addition of activated charcoal, neem oil and aloe vera.
Activated charcoal is known to draw toxins from the skin and is fab for oily skins.
Tea tree oil has some seriously amazing properties including being antiseptic and is known for controlling skin problems.
Neem oil is anti bacterial and anti fungal aswell as soothing and moisturising and is traditionally used in Ayurvedic medicine to treat skin complaints.
Stamped with a tree and packaged in a muslin bag with a recycled card quote tag.
"The moon is magic for the soul"
This soap has a slightly grey lather due to the activated charcoal

INGREDIENTS: Sodium olivate (olive oil), sodium cocoate (coconut oil), sodium shea butterate (shea butter), aloe barbadensis (aloe vera) leaf juice, glycerine, sodium castorate (castor oil), sodium neemate (neem oil), melaleuca alternifolia (tea tree) essential oil, charcoal powder, titanium dioxide *limonene *naturally occurring in essential oils.
Minimum cut weight: 80g e
Due to the handcrafted nature of the bars, sizes, shapes, colours and patterns may vary.
Daisy Age products are fully insured and certified to comply with EU and UK cosmetic legislation.
Daisy Age is a member of The Guild of Craft, Soap and Toiletry Makers.