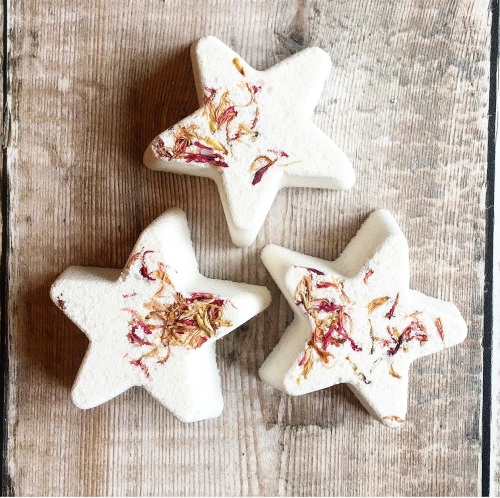 Luscious lavender botanical bath bomb
Vegan bath fizzy with pure essential oil of Lavender and epsom salts
Luscious lavender botanical bath bomb. Pop into the bath and let it fizz releasing the essential oils and epsom salts into the bath. Made with white kaolin clay which leaves the skin lovely and soft. These are non greasy bath treats.
Packaged in a compostable bag tied with raffia with a recycled quote tag. Pop this bag in your home compost and it will return to the earth in around 12 weeks.
"Those who don't believe in magic will never find it"
INGREDIENTS: Sodium bicarbonate, citric acid, lavandula angustifolia (lavender) essential oil, white kaolin clay, pink cornflower petals, magnesium sulfate (epsom salts) *geraniol, *limonene, *linalool. *naturally occurring in essential oils.
Min weight:60g e
DO NOT EAT.
Daisy Age products are fully insured and certified to comply with EU and UK cosmetic legislation by chartered chemists. Daisy Age is a member of The Guild of Craft, Soap and Toiletry Makers.